Our Ministries

Help abandoned, abused children find healing. Your gift of $35 provides a Scholarship for a month of weekly sessions with Believers who are trained professional counselors. $75 covers 6 weeks of Parent Training for parents.
You can help to stop the cycle of abuse in Romania. Children who are abused often grow up to be abusive parents. Beginning in 2001, God brought to us a number of good-hearted therapists who asked us to train them in better ways to help the children recover from neglect and outright abuse. Each year, they invited us back to teach them more...and now we are accepting their pleas that we move to Romania. Building on the skills and knowledge these university trained therapists already had, there are now quite a few outstanding therapists.
Anne, a Master Clinical Social Worker since 1983, is always available to supervise the cases. She continues to train these fine people who have a heart for the wounded.
Because the majority of the people have very little money, most of the counselors work full time at other jobs as Social Workers or teachers. After working all day, these skilled therapists come to the Counseling Center to help troubled children. They charge on a very low sliding scale based on the client's income. Even so, too many cannot afford the full fee. What can you do to help these children? $105 will give one child 3 months of weekly sessions. $630 will give 6 children 3 months of weekly therapy sessions. The need is urgent!


There are many good doctors and nurses in Romania, but they tell us that the medical training in their country is not very good. There is a terrible shortage of medications. Their equipment is old and inefficient. They make very little money, but most of them serve because they are dedicated to helping their people. Difficult cases are sent to Hungary for medical diagnosis and treatment. Some of you sent little Huni to Hungary for diagnosis, and now you are helping him have the medicine and vitamins that he needs. He is alive because of you. There are many more boys and girls, and abandoned elderly people who need medical help. Please, open your hearts and donate so they can live quality lives.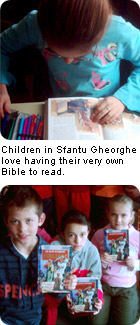 God works in mysterious ways His wonders to make known! Do you remember that Mission Ice Cream, led by a 12 year old boy, sent God's Children $354.42, to help the flood victims. He inspired others to give. That fund to help the Belin Flood Victims grew to $10,000!

Well, a group of 15 teenagers in TYG (The Youth Group) in Pacifica, CA, earned $1,000 to begin the fund to pay for the first new Hungarian Children's Bibles printed by Eastern European Missions. Unknown to the teens, they were tools in the hands of God to START SOMETHING BIG. That fund is still growing. EEM stepped out in faith...they printed, and this week DELIVERED 5,000 Hungarian Children's Bibles to Sfantu Gheorghe, Transylvania, Romania! And that is just the beginning.

There are 1,581,600 Hungarian speaking Romanians. Very few of the children have Bibles. Those of you who donated to this sweet fund are helping them learn more about God. Adolf Papp, President of the Covasna County Red Cross, who will help us distribute these free children's Bible told me, "It's a great help for the children. It is a very nice book!"

Did you know that very few children in Romania have their own Bible? Did you know that most of the Bibles that are available were translated many years ago...and are very hard for a child or adult to understand? Do you realize that most families in Romania do not have money to buy a Bible?

We are SWAMPED with requests for more Bibles. From the beginning of translation to printing and delivery to us, one children's Bible costs only $10. How many can you give?

Please make an online contribution now!

Or you can send your tax deductible check made out to:

God's Children
28989 Frankfort Ln.
Temecula CA 92591


Donate Online!



It's secure! You may donate using your credit card or your bank account.

Our Ministries
Counseling Scholarships
Providing Medical Help
Bible for Every Child
We devote our time to mentoring those whom God brings to us. We both are volunteers for the Covasna County Red Cross. Dan is the Family Counselor. Anne is a Clinical Social Worker who helps people recover from trauma... [ MORE ]

Items needed for Covasna County Red Cross, Sfantu Gheorghe, Romania

[ MORE ]